This help page is for Priima environment administrators
Priima sends messages about many situations in the environment to the learner, the course administrator and the environment administrator. Some of the messages are sent immediately, some in a mass drive that leaves in the middle of the night, and for some you can define the time yourself. In addition, information is sent to the administrators of the environment 30 days before the OBF license is about to expire, if koamismarkt has been enabled.
Immediately sent emails regarding own account, course etc.
New user account is created
User account is changed
User's password is changed
User is added to group
User/group is added to a course
Registration form / New user account is created
Registration form / New user account is created and/or joining a course
An announcement from the course that is sent immediately
User/group is add to a learning path
Reminders concerning expired courses can be scheduled as desired. The message will be sent to learners, course instructors, administrators and supervisors if there are any. Learner cannot disable reminders regarding expirng course results.
During the night drive, information about new events or due dates in the environment is sent, if e-mail reminders are turned on in the environment settings. The user can choose to receive messages in his own settings. The message is sent when there is a reason, once a day. The message can contain information about yourself as well as information for the trainer and the course administrator. More information on customizing the email reminder can be found in the section Messages and email reminders.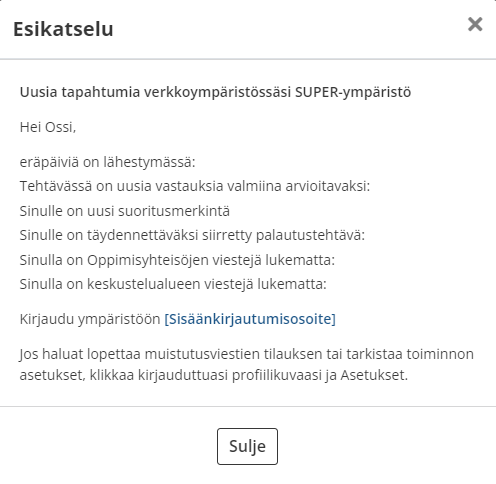 The nightly message may contain information on the following, depending on whether related activity has taken place in the environment:
The course has a scheduled announcement set to be sent on that day.

The message describes the course to which the announcement is related, as well as the title and subject of the announcement. There is also a direct link to the course.

Courses and compulsory assignments approaching (8 and 15 days before)

A list of assignments with a due date approaching or courses that are about to close
List of courses and their mandatory tasks when your membership is about to expire

Unread messages (for 30 days)

Unread Chat messages
Unread messages in the discussion area

Assingments to check (next night)

When you are an inspector in a mandatory return task or in a monitoring block and there is something new to inspect.

New course and assignment completions

Once the instructor has assessed my mandatory assignment: returnbox assignment and follow-up assignment
When a course has manual assessment enabled and when the instructor has added the course completion to me
When I complete a learning path

New people have registered for the course
If the learner already has a course completion, no reminder message will be sent about the closing of the course or the end of the course membership.