We've compiled a summary of Priima's key support services.
Priima Help Center
The Help Center provides instructions in text and video format. You can conveniently search for help using the search function. The Help Center is available to all Priima users and the instructions are divided role-based. The help center is available in Finnish and English.
Priima Academy
Academy is a free value-added service for Priima customers. You can take online courses at the Academy in connection with the use of Priima. You will also find great information about the new functionalities that are released in Priima. In addition, you will find online courses related to, for example, online pedagogy and content production. In addition, you can find always updated Priima Roadmap and other service documents. The content of the Academy is currently available in Finnish.
Priima Academy is intended for admin users of customers, course administrators and trainers. The content of the academy is currently available in Finnish.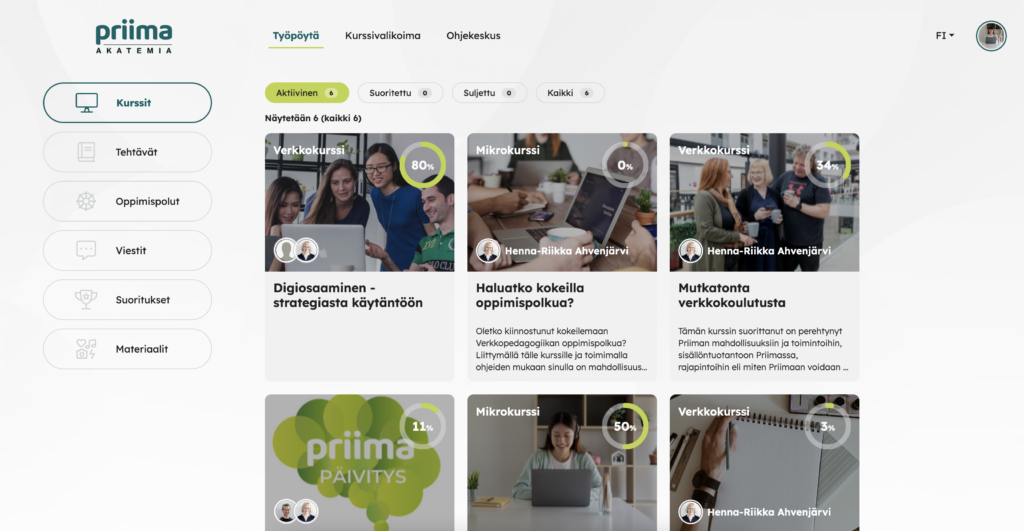 Priima Academy Live  Academy Live is a series of webinars that can be attended by customers and anyone interested in Priima. Webinars are held about 1-2 times a month, usually on Wednesdays from 8.30am to 9.30pm. Sometimes we tell ourselves about Priima's new winds, and sometimes our customers tell us how they use Priima to support the training of their staff or customers, for example.
We inform about new webinars on our website (Events, news and blog), on our channels (LinkedIn, Facebook, Twitter) and we also send information and a link to the registration form with the email bulletin. Previous recordings can be found on our website and in the future also at Priima Academy.
Priima Customer Community
The Priima Customer Community brings together Priima customers, Saarni Learning and our partners. With the help of the customer community, our customers and Priima's product development can get even closer to each other. In the customer community, we discuss, network, ideate and experiment – we develop Priima and its use forward together. You can join the customer community through Priima Academy: There is a Customer Community course in the course selection, and you can join the activity by signing up for it.
Priima Helpdesk
Can't get ahead with instructions, or would you rather discuss with our helpdesk? The Priima helpdesk can be contacted by the administrators of our customers' Priima environment by e-mail. The helpdesk is open on weekdays Mon-Fri from 8 am to 4 pm. The service is available in Finnish and English.
In the Statistics view of environment administration, you can find a button through which you can conveniently send a message to the Priima Helpdesk. In practice, the button opens an e-mail program according to the user's settings and sets Priima Helpdesk's e-mail address as the recipient.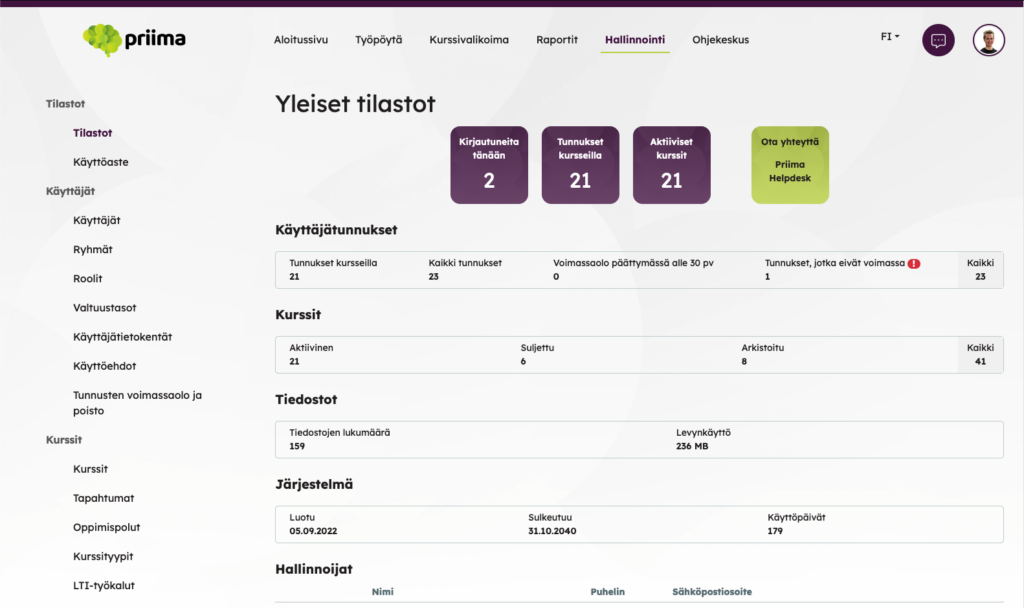 Customer contact person
If your organization has a designated customer contact person who is responsible for your customer service at Saarni Learning, you can also discuss with that person, for example, the development needs of using Priima or, for example, integration projects or consulting and training needs. Discussions and other communication can be conducted in Finnish or English.
If you don´t have a dedicated contact person, you can send an email to our customer service info@saarnilearning.fi