It is possible to create start pages in Priima, which can be targeted to the users. Start pages can contain different kind of material blocks and widgets.
Start pages can be created one or more depending on the needs of the users. Start pages can be targeted to groups or e.g. learners, instructors and managers. One user can have rights to one or more start pages If the user have several start pages, the start pages are listed in the left side menu. The pages now appear in the order they were created and from top to bottom according to the targeting.
The Priima environment administrator configures and builds start pages in Administration > Environment > Start Pages. The start page editor is largely similar to the course content editor, meaning it has many of the same features. You can add to the start page
Text
Files
Image
Video and audio
Wikipedia page
Embedded content
Page in frame
Targeted content
Targeted content allows the start page to show the learner, instructor, and / or manager the necessary blocks related to completion situations:
For the learner
Expiring and expired course results
Progress in my courses
Learning paths
For the educator
Not evaluated assignments
For the manager:
The latest results of my team
Expiring and expired course completions of the team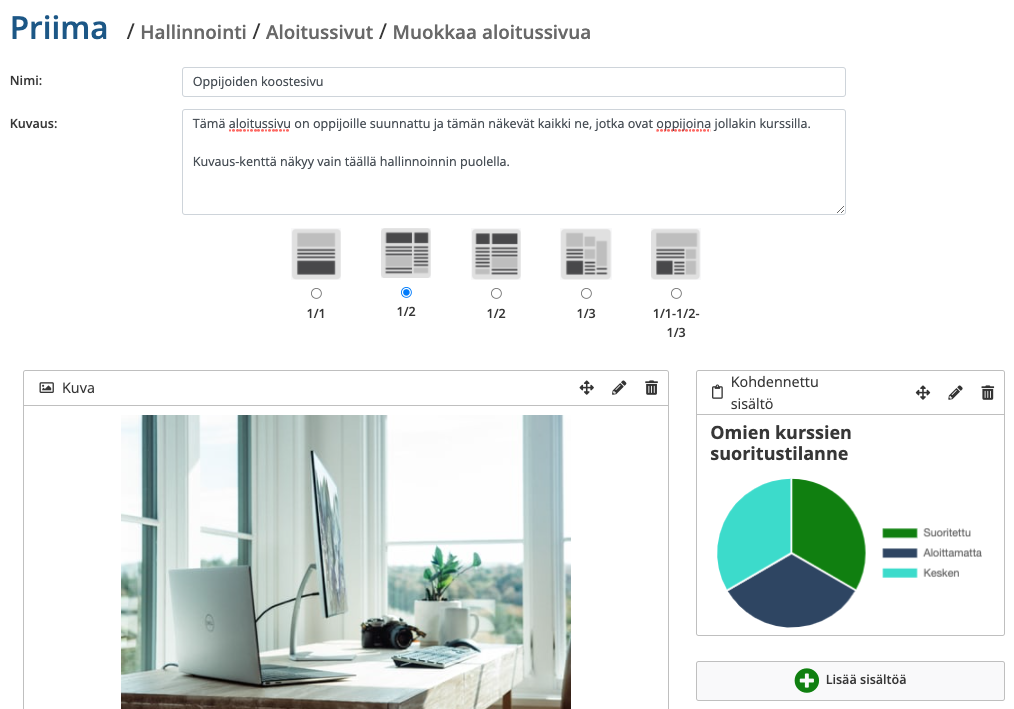 Images and other files: Images or other files exported to the Start page cannot be deleted by the materials owner in the Materials view, but must always be deleted when editing the Start page. The information in the material tells you which Start page it is on. Similarly, content retrieved using the iFrame feature is listed on the Administration page for that feature.