This help page is for learners
General instructions
Priima's course consists of paragraphs and content pages. Some course may contain only one chapter with its content, and another course may be considerably more extensive.
Always read the course instructions first; particularly specific instructions related to completing the course.
The course may also have a message board in which there may be course-related instructions from the trainer. Discussions can also be, for example, themed discussions on the course content pages.
The course may also have announcements, which can be found in the Announcements view. You can view the entire bulletin by clicking on the announcement. Announcements also include a notification for My learning notifications on the Dashboard, as well as, for example, an e-mail message or information about the announcement in a consolidated message, depending on the settings set by the sender of the announcement.

The course instructor determines how the course will be conducted. Course progress can be free-form or in a set order. Please remember to check the course information for any time limits. In addition to this, there may be different time limits for the course assignments.
Course with a certain passing criteria
If particular completion rules have been set for the course, you can follow your own progress in the course in the dashboard's Courses and Assignments screens as well as in the course.
If the completion conditions of the course are to go through the content pages, you will see a barb next to each chapter and content page. The bar will change from gray to green when you have completed a page/chapter.
If the completion condition of the course is the completion of mandatory assignments, the green progress bar will increase according to the completion of these assignments. The page navigation also shows the number of tasks on that content page. The status of the task is also always displayed in connection with the task.
If the completion condition of the course is the completion of both mandatory assignments and course content pages, the course view shows the completion status of both assignments and pages.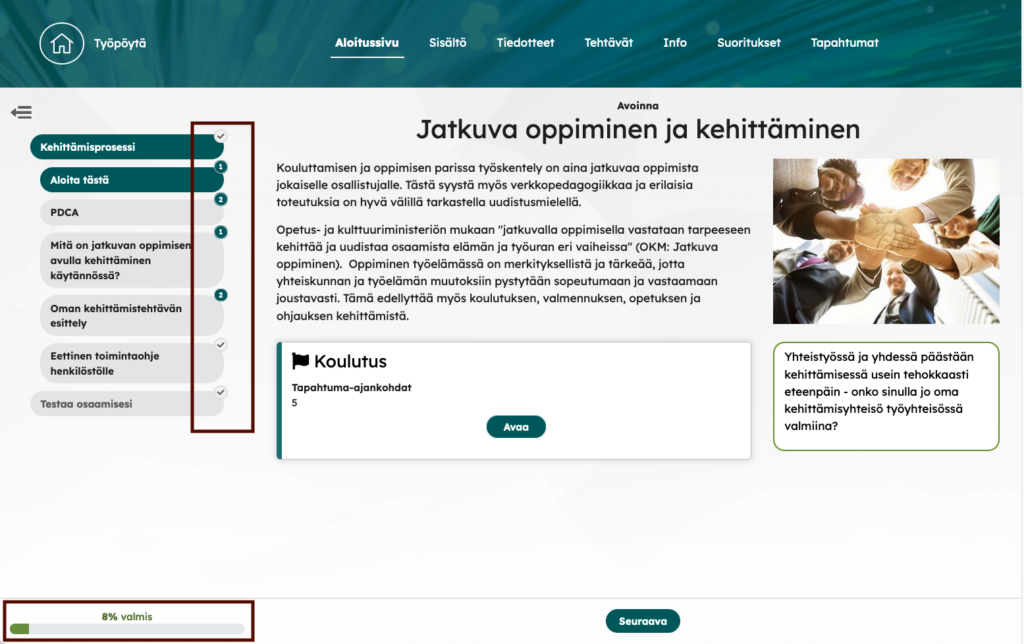 Monitoring progress in the course
The Course Results view summarizes your own course completion status. You can also compare your own progress with other course members:
Your own progress, i.e. how much of the course you have completed so far.
Average progress in the course, i.e. how much on average the other members of the course have completed the course so far.