This help page is for Priima environment administrators
This is an unfinished feature where error situations may occur. The function is not yet ready for use. At this point, we encourage you to start thinking about how these personal desktops could potentially be utilized in your organization in the future before the feature is actually deployed in Priima. The function will develop and diversify during the autumn, and we will present personal desktops in more detail in the autumn at the Priima Akatemia Live webinar, when the funtion is ready for use.
Personal desktops is a feature that allows you to assign blocks to different user groups that contain relevant summaries about what has happened in the Priima environment. If desired, the environment administrator can enable custom desktops in the Admin > Environment > Personal desktops view and choose which blocks are displayed on the desktop. At this stage, desktops can be selected according to the different roles of the user (instructor/task inspector, superior, learner).

When the Enabled check box is selected, the blocks that appear on the desktop can be customized for different roles.
At this point, the learner's blocks can be selected to view the Expiring and expired course results and the Progress in my courses. Not examined assignments and the Progress in my courses can be selected as the trainer's blocks. For the supervisor, you can select Latest results of the team, Expiring and expired of team, and Progress in my courses. More block options are introduced in the future, so follow the release updates.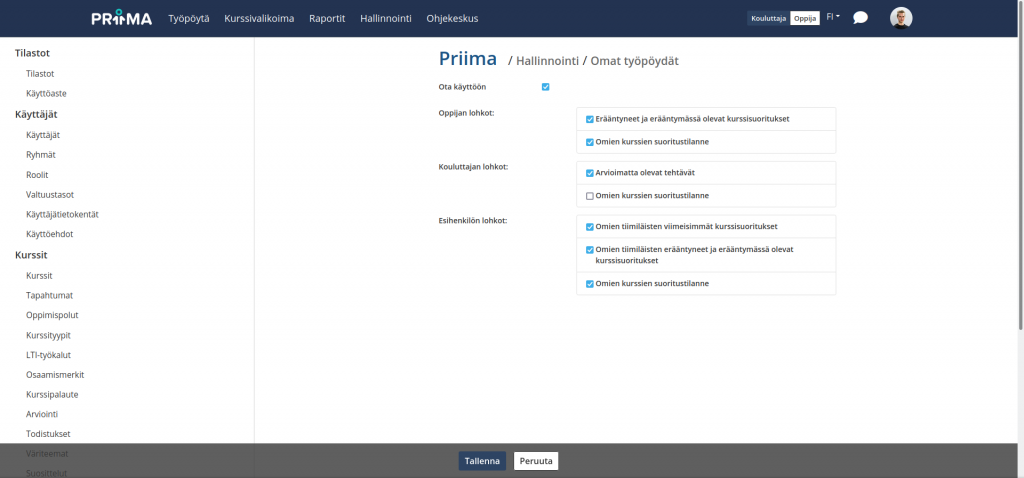 Once Personal desktops is enabled in admin panel, a new Personal desktop option will appear in the Priima side menu. Personal desktop will show the blocks assigned for each role.